Explore the vibrant world of Color Me Mine, a creative haven where you can express yourself through pottery painting. Unleash your inner artist and discover the joy of personalizing ceramic masterpieces. Join us as we delve into the enchanting realm of Color Me Mine, discussing its history, offerings, and how you can embark on your own colorful journey.
Introduction
Welcome to the world of Color Me Mine, a place where imagination knows no bounds and creativity flourishes. Whether you're an artist at heart or just looking to explore your artistic side, Color Me Mine offers a delightful escape into a world of colors, patterns, and self-expression. In this article, we'll dive deep into the captivating realm of Color Me Mine, discussing its origins, the process of pottery painting, the wide range of designs and techniques available, and the sheer joy it brings to people of all ages. So, grab your brushes and let's paint the town red (or any color you fancy) with Color Me Mine!
Unveiling Color Me Mine: A Brief History
Color Me Mine, founded in 1991 by Larry and Anita Duncan, emerged as a creative oasis for individuals seeking a unique way to relax, express themselves, and connect with their artistic side. With the belief that everyone is an artist, Color Me Mine set out to create an inclusive environment where people of all ages and skill levels could immerse themselves in the world of pottery painting.
The Colorful Process of Pottery Painting
At Color Me Mine, the process of pottery painting is a delightful and therapeutic experience that allows you to turn a simple ceramic piece into a personalized masterpiece. Here's a step-by-step guide to get you started:
1. Choose Your Canvas: Selecting the Perfect Piece
The first step in your creative journey is choosing the ceramic piece that speaks to you. From mugs and plates to figurines and vases, Color Me Mine offers a vast array of options to suit every taste and preference. Take your time to explore the shelves, touch the pieces, and find the one that captures your imagination.
2. Unleash Your Inner Picasso: Design and Planning
Once you've chosen your canvas, it's time to unleash your creativity. Imagine the colors, patterns, and designs you want to bring to life. Sketch out your ideas or let your imagination run wild as you envision your finished masterpiece.
3. Colors Galore: Paint Your Way to Perfection
With your design in mind, it's time to select your colors and paint away. Color Me Mine provides an extensive palette of paints, allowing you to mix and match shades to create the perfect hues for your creation. Let your brush glide across the ceramic surface, bringing your vision to life stroke by stroke.
4. Masterful Details: Adding the Finishing Touches
Once you've painted the base colors, it's time to add those extra details that make your piece truly unique. From intricate patterns to delicate brushstrokes, this is where your personal touch shines through. Take your time and enjoy the process of refining your artwork.
5. The Magic of Firing: Transforming Clay into Ceramic
After completing your masterpiece, leave it in the capable hands of the Color Me Mine staff. They will professionally glaze and fire your piece in a kiln, transforming the clay into a vibrant and durable ceramic masterpiece. The firing process ensures that your creation is food-safe, dishwasher-safe, and ready to be cherished for years to come.
Embarking on a Colorful Journey: Designs and Techniques
Color Me Mine offers a plethora of designs and techniques to fuel your imagination and help you create pottery that reflects your unique style. Whether you're a fan of intricate patterns, whimsical characters, or abstract designs, there's something for everyone. Here are a few popular design styles and techniques you can explore:
1. Mandala Magic: Creating Intricate Patterns
Mandalas, with their intricate and symmetrical patterns, have captivated artists for centuries. At Color Me Mine, you can immerse yourself in the mesmerizing world of mandalas and create pottery adorned with these ornate designs. From delicate dotting techniques to precise linework, you can unlock the magic of mandalas on your ceramic pieces.
2. Whimsical Wonder: Bringing Characters to Life
If you have a fondness for cute creatures and whimsical characters, Color Me Mine has an enchanting collection of figurines waiting to be transformed. Let your imagination roam free as you add personality and charm to your ceramic friends. From adorable animals to magical beings, the possibilities are endless.
3. Abstract Expressions: Unleash Your Inner Picasso
For those who enjoy the freedom of abstract art, Color Me Mine offers the perfect platform to let your creativity flow. Splash bold colors, experiment with textures, and embrace the beauty of abstract expressions. Let your brush dance across the surface as you create a stunning visual symphony.
4. Sentimental Strokes: Personalize for Special Occasions
One of the most delightful aspects of Color Me Mine is the ability to personalize your pottery for special occasions. From birthdays and anniversaries to weddings and baby showers, you can create heartfelt and customized gifts that will be treasured for a lifetime. Paint a mug with a heartfelt message, design a plate for a newborn, or craft a keepsake to commemorate a special milestone.
FAQs About Color Me Mine
Q1: Is pottery painting suitable for all ages?
Yes! Color Me Mine welcomes artists of all ages, from young children to adults. It's a wonderful activity for families, friends, date nights, or even solo ventures. There's no age limit when it comes to exploring your creativity.
Q2: Do I need any artistic experience to enjoy pottery painting?
Not at all! Color Me Mine provides all the tools, guidance, and inspiration you need to create beautiful pottery. Whether you're a seasoned artist or just starting your creative journey, pottery painting is accessible and enjoyable for everyone.
Q3: Can I host a private event at Color Me Mine?
Absolutely! Color Me Mine offers private events for birthdays, bridal showers, corporate team-building activities, and more. Gather your friends, family, or colleagues for a memorable and creative experience.
Q4: How long does the pottery painting process take?
The duration of the pottery painting process varies depending on the complexity of your design and the number of layers involved. It can range from a quick session to multiple visits, allowing you to perfect your creation.
Q5: Can I gift a Color Me Mine experience to someone?
Certainly! Color Me Mine offers gift cards that can be redeemed for pottery painting sessions. It's a fantastic way to share the joy of creativity with your loved ones.
Q6: Can I take my finished piece home on the same day?
After completing your painting, the Color Me Mine staff will handle the glazing and firing process. Once your piece is ready, you can return to pick it up and proudly display your artistic achievement.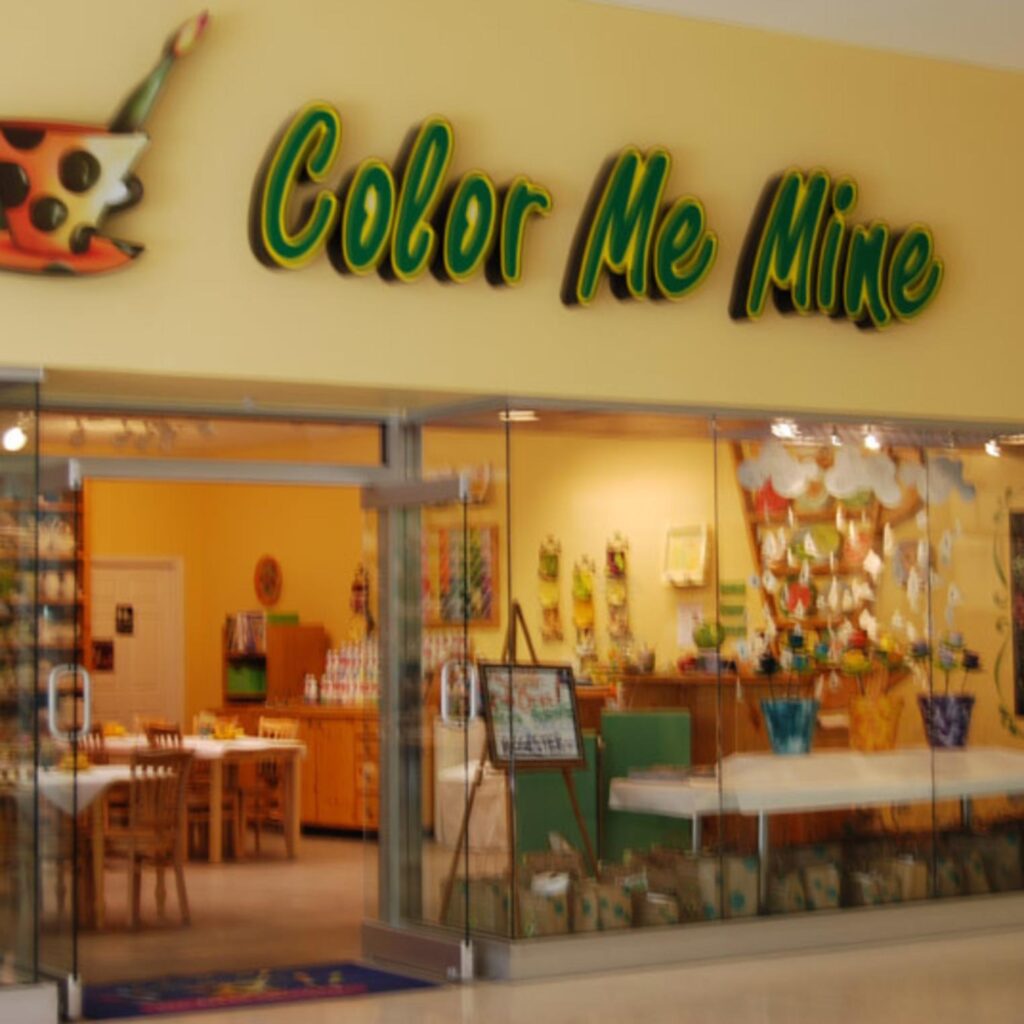 Conclusion
Color Me Mine is not just a pottery painting studio; it's an artistic haven where imaginations soar and creativity thrives. Whether you're seeking a therapeutic escape, a fun activity with loved ones, or a chance to explore your artistic talents, Color Me Mine offers it all. With its wide range of designs, techniques, and personalized options, you can create pottery that reflects your unique style and personality. So, grab your brushes, choose your colors, and let the vibrant world of Color Me Mine ignite your creativity.