When it comes to fashion, certain combinations have stood the test of time and become true classics. One such pairing is the blazer with jeans. This versatile ensemble effortlessly blends sophistication and casualness, making it suitable for a variety of occasions. Whether you're heading to the office, going out for a night on the town, or attending a semi-formal event, a blazer with jeans can be your go-to choice. In this article, we will explore the art of styling blazers with jeans to create stylish and polished looks.
Blazer with Jeans: A Match Made in Fashion Heaven
A blazer with jeans is a winning combination that strikes the perfect balance between formal and casual attire. It allows you to showcase your personal style while exuding confidence and elegance. Here are some reasons why the blazer with jeans look has become a fashion staple: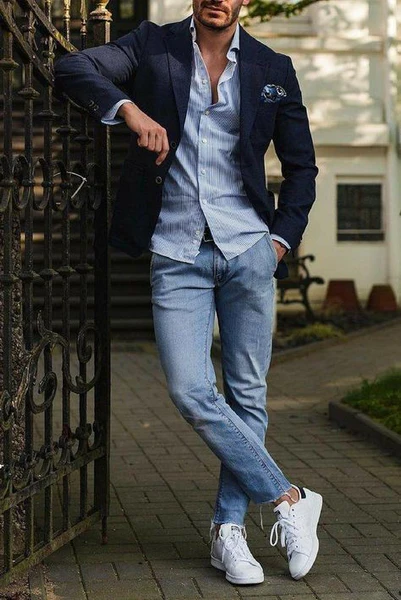 1. Versatility at Its Finest
The beauty of pairing a blazer with jeans lies in its versatility. With countless styles, colors, and cuts available, you can mix and match to create a look that suits your individual taste and the occasion. Whether you opt for a fitted blazer or a more relaxed silhouette, the possibilities are endless.
2. Effortlessly Chic
There's something effortlessly chic about the blazer with jeans ensemble. It adds an instant touch of sophistication to any outfit, elevating your overall appearance. The structured silhouette of the blazer contrasts perfectly with the relaxed nature of jeans, creating a well-balanced and stylish look.
3. Day-to-Night Transition
One of the greatest advantages of the blazer with jeans combination is its ability to seamlessly transition from day to night. By simply swapping out your accessories or shoes, you can take your outfit from a professional office look to a trendy evening ensemble. It's a versatile choice that saves you time and effort while ensuring you always look put-together.
4. Expressing Individuality
The blazer with jeans look allows you to express your unique sense of style. Whether you prefer a classic monochromatic look or a bold patterned blazer paired with distressed jeans, you can showcase your personality and make a fashion statement. It's all about finding the right balance and experimenting with different combinations.
Styling Tips for the Perfect Blazer with Jeans Look
Now that we understand the appeal of the blazer with jeans combination, let's delve into some styling tips to help you create a polished and fashionable look:
1. Choose the Right Fit
The key to a successful blazer with jeans outfit is finding the right fit for both pieces. The blazer should be tailored to your body shape, accentuating your curves or creating a sleek silhouette, depending on your preference. Similarly, the jeans should fit well and flatter your figure. Consider factors such as rise, length, and cut to ensure a flattering fit.
2. Color Coordination
When it comes to pairing a blazer with jeans, color coordination is essential. Opt for complementary or contrasting colors to create an eye-catching ensemble. For a classic look, a navy blazer paired with dark indigo or black jeans is a timeless choice. If you're feeling more adventurous, experiment with bold hues or patterns to add a contemporary twist.
3. Accessorize with Flair
Accessories can elevate your blazer with jeans look to new heights. A statement belt, a stylish watch, or a pocket square can add a touch of personality and sophistication. Consider the occasion and the overall aesthetic you want to achieve when selecting accessories. Don't be afraid to mix metals, textures, and colors to create an interesting and well-coordinated look.
4. Dress It Up or Down with Footwear
The choice of footwear can transform the entire vibe of your blazer with jeans ensemble. For a more casual look, opt for sneakers or loafers. If you want to add a touch of formality, choose dress shoes or ankle boots. The footwear you select should complement the overall aesthetic while ensuring comfort and practicality.
5. Experiment with Layers
Layering is a great way to add depth and dimension to your blazer with jeans outfit. Pair your blazer with a well-fitted shirt or blouse and add a sweater or cardigan for extra warmth or style. Experiment with different fabrics, textures, and lengths to create a visually appealing and well-coordinated look.
6. Embrace Tailoring
While jeans are typically seen as a casual garment, opting for tailored or structured jeans can instantly elevate your blazer with jeans look. Look for jeans with clean lines and a more polished appearance. Tailored jeans offer a sleek and refined aesthetic, making them the perfect complement to a sophisticated blazer.
Frequently Asked Questions (FAQs)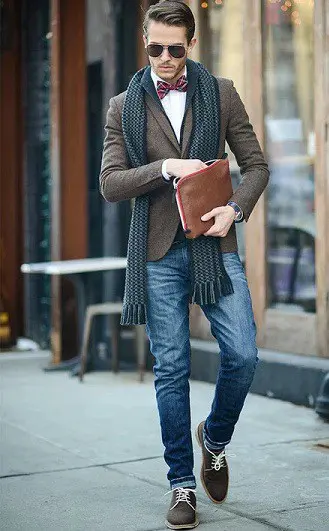 Can I wear any type of blazer with jeans?

While you have the freedom to experiment with different styles, some blazers may work better than others. It's best to choose blazers that have a structured silhouette and are made from materials like wool, tweed, or cotton. These fabrics provide a more formal and polished look when paired with jeans.

What are some appropriate occasions to wear a blazer with jeans?

Blazer with jeans outfits are versatile and can be worn on various occasions. They are suitable for business-casual workplaces, semi-formal events, date nights, or even a casual evening out with friends. The key is to select the right blazer, jeans, and accessories to match the level of formality required.

Are there any age restrictions for wearing a blazer with jeans?

Absolutely not! The blazer with jeans combination is ageless and can be embraced by individuals of all ages. It's all about finding the right fit, style, and color that suits your personal taste and enhances your confidence.

Can I wear a blazer with ripped or distressed jeans?

Yes, you can! Pairing a blazer with ripped or distressed jeans can create a stylish contrast between the formal and casual elements of your outfit. However, it's important to strike a balance and ensure that the distressing is intentional and not excessive, so as not to appear overly casual or unkempt.

How can I make a blazer with jeans look more feminine?

To make a blazer with jeans outfit more feminine, you can opt for blazers with softer fabrics or feminine details such as ruffles or floral patterns. Pairing the ensemble with heels or accessorizing with delicate jewelry can also add a touch of femininity to the overall look.

Can I wear a blazer with colored or patterned jeans?

Absolutely! Colored or patterned jeans can add a fun and trendy element to your blazer with jeans outfit. When wearing colored or patterned jeans, ensure that the blazer and other accessories are more neutral or complementary in color, allowing the jeans to be the focal point of the ensemble.
Conclusion
In conclusion, the blazer with jeans combination is a timeless and versatile style choice that allows you to strike the perfect balance between sophistication and casualness. By selecting the right blazer, jeans, and accessories, you can create a myriad of stylish and polished looks suitable for a variety of occasions. So, embrace this fashion staple and let your personal style shine through with a blazer and jeans ensemble!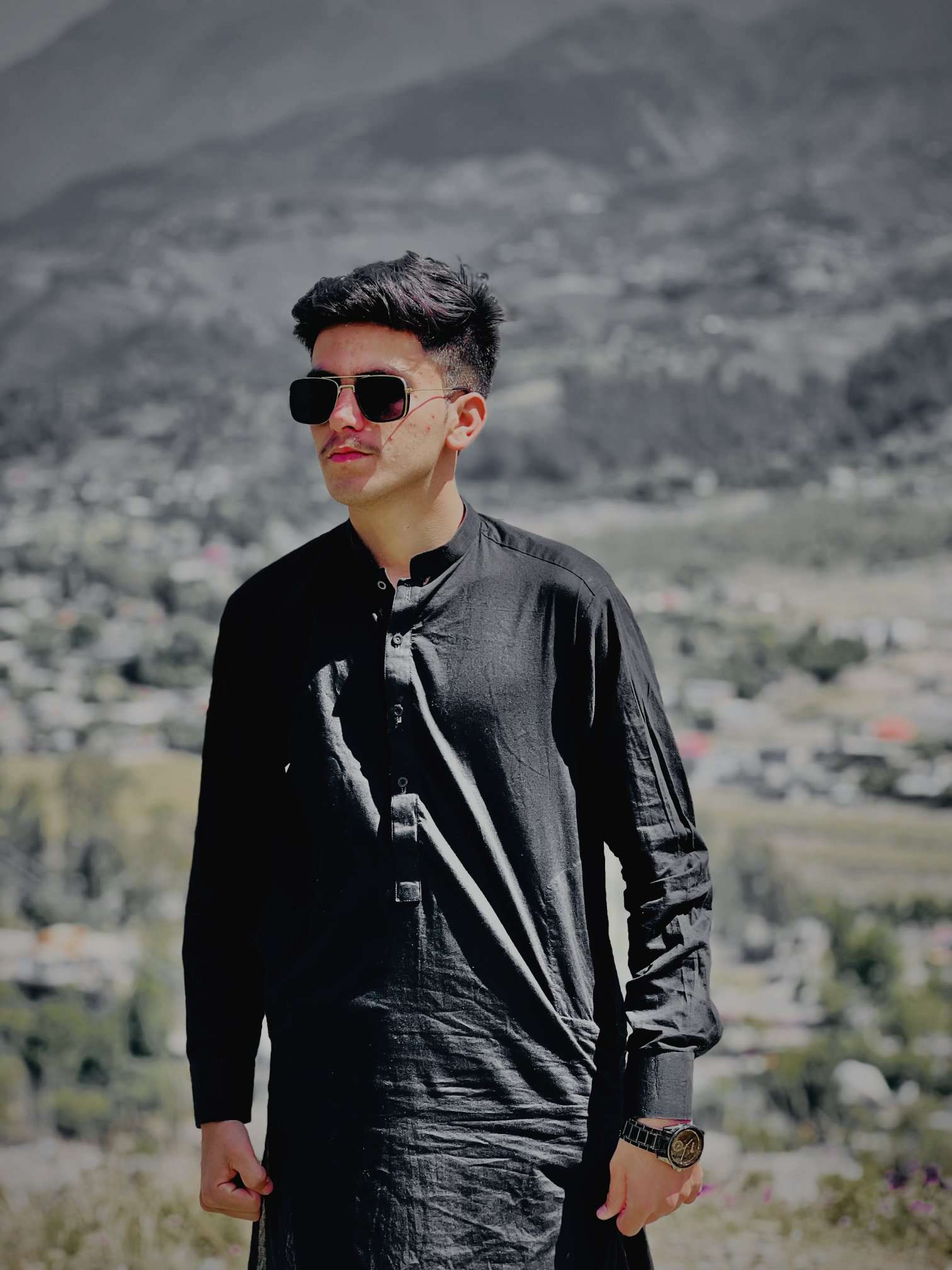 Rocklord is an experienced blogger with a wealth of knowledge and expertise in creating great content. With 5 years of experience in the industry, Rock lord has established himself as a thought leader and influencer in the blogging community. His insightful and engaging content has captivated readers and left them craving for more.
Contact : Rockseo333@gmail.com