Taking care of our feet is essential for maintaining overall health and well-being. One of the effective ways to ensure proper foot care is through a medical pedicure. In this article, we will explore the world of medical pedicure, their benefits, procedure, and frequently asked questions. So, let's put our best foot forward and dive into the world of medical pedicures!
What is a Medical Pedicure?
A medical-pedicure is a specialized foot treatment performed by a trained professional, usually a podiatrist or a licensed nail technician with advanced training. It focuses on the health and aesthetics of the feet, addressing various foot conditions and providing preventive care. Unlike traditional pedicures, medical-pedicures prioritize foot health over purely cosmetic aspects.
The Benefits of Medical Pedicure
Proper foot care plays a crucial role in maintaining overall health. Here are some key benefits of opting for a medical-pedicure:
Prevention and Treatment of Foot Conditions: medical-pedicures can help prevent and address common foot problems such as calluses, corns, ingrown toenails, fungal infections, and dry skin. The treatment aims to alleviate discomfort and restore foot health.
Improved Circulation: The massage and exfoliation techniques used in a medical-pedicure can stimulate blood flow, promoting better circulation in the feet. This can be especially beneficial for individuals with poor circulation or conditions like diabetes.
Relaxation and Stress Relief: A medical-pedicure not only focuses on foot health but also provides a soothing and relaxing experience. It allows you to unwind, relieving stress and tension in the process.
Enhanced Foot Appearance: While medical-pedicures prioritize foot health, they also improve the appearance of your feet. By addressing calluses, dry skin, and other cosmetic concerns, a medical pedicure can leave your feet looking refreshed and rejuvenated.
Professional Assessment and Advice: During a medical-pedicure, the professional examines your feet, identifying any potential issues or areas that need attention. They can provide personalized advice on foot care, footwear, and preventive measures, helping you maintain foot health in the long run.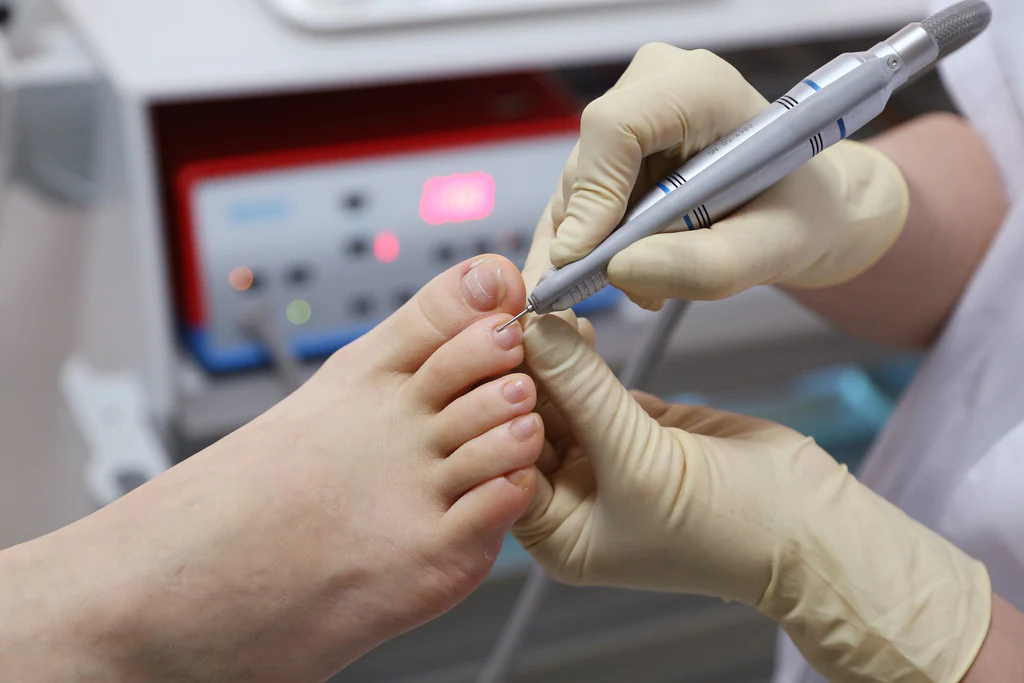 The Procedure: What to Expect
A medical-pedicure typically involves the following steps:
Foot Examination: The professional will start by examining your feet, assessing their condition and identifying any areas of concern.
Foot Soak: You will soak your feet in warm water with added essential oils or foot-friendly products. This helps soften the skin and prepares it for further treatment.
Nail Trimming and Shaping: The professional will trim and shape your nails, ensuring they are properly maintained and free from sharp edges.
Cuticle Care: The cuticles around the nails will be gently pushed back and trimmed, promoting healthier nail growth.
Callus and Corn Removal: Using specialized tools, the professional will gently remove calluses and corns, eliminating discomfort and improving foot appearance.
Exfoliation: A scrub or exfoliating treatment will be applied to your feet, removing dead skin cells and leaving your feet smoother and softer.
Massage: A therapeutic foot and leg massage will be performed to promote relaxation, relieve tension, and enhance blood circulation.
Moisturization: Your feet will be moisturized with a nourishing lotion or cream, providing hydration and helping maintain skin health.
Nail Polish (optional): If desired, you can choose to have your nails painted with a regular or gel polish, adding a touch of color to your freshly cared-for feet.
Frequently Asked Questions (FAQs)
Can anyone get a medical pedicure?
Yes, anyone can get a medical-pedicure. It is especially beneficial for individuals with foot conditions or those seeking preventive foot care.
How often should I get a medical pedicure?
The frequency of medical pedicures depends on your individual needs. It is generally recommended to have one every 4-6 weeks, but your podiatrist or nail technician can provide personalized advice.
Is a medical pedicure painful?
No, a medical pedicure is not painful. The professional performing the treatment ensures your comfort throughout the procedure.
Are the tools used in a medical pedicure safe and sterilized?
Yes, reputable professionals follow strict hygiene practices. They use sterilized tools or disposable instruments to maintain a clean and safe environment.
Can a medical pedicure treat toenail fungus?
While a medical pedicure can help with the cosmetic appearance of toenail fungus, it is not a definitive treatment. For proper diagnosis and treatment, consult a healthcare professional.
Is a medical pedicure covered by insurance?
In some cases, a medical pedicure may be covered by insurance if it is deemed medically necessary. Check with your insurance provider for specific details.
Conclusion
Investing in proper foot care is vital for maintaining healthy and happy feet. A medical pedicure offers a comprehensive solution, combining foot health with relaxation and aesthetics. By opting for a medical pedicure, you can enjoy the benefits of professional foot care, preventive measures, and personalized advice. So, take a step in the right direction and treat your feet to a rejuvenating medical pedicure!