Welcome to the world of Pureple Outfit Planner, where fashion meets technology! Are you tired of staring at your closet, feeling overwhelmed by the options, and struggling to put together stylish outfits? Look no further, because Pureple Outfit Planner is here to save the day. With its intuitive interface, powerful features, and endless possibilities, Pureple is the ultimate fashion companion you need in your life. In this comprehensive guide, we will explore the ins and outs of Pureple Outfit Planner, uncover its remarkable features, and learn how it can revolutionize your wardrobe. So, let's dive in and discover the magic of Pureple!
Table of Contents
What is Pureple Outfit Planner?
How Does Pureple Outfit Planner Work?
The Benefits of Using Pureple Outfit Planner
Creating Your Personalized Wardrobe Collection
Organizing Your Closet with Pureple Outfit Planner
Mix and Match: Unlocking the Power of Pureple
Exploring Outfit Recommendations
Navigating Seasonal Transitions with Pureple
Utilizing Pureple Outfit Planner on the Go
Pureple Premium: Unleashing Advanced Features
Pureple Outfit Planner and Sustainable Fashion
Staying Fashionable and Sustainable with Pureple
Frequently Asked Questions (FAQs)
FAQ 1: Can I use Pureple Outfit Planner on multiple devices?
FAQ 2: How secure is my personal information on Pureple?
FAQ 3: Can I share my outfit combinations with friends?
FAQ 4: Does Pureple Outfit Planner offer style recommendations for men?
FAQ 5: Is Pureple available in multiple languages?
FAQ 6: Can Pureple help me pack for a trip?
Conclusion
1. What is Pureple Outfit Planner?
Pureple Outfit Planner is an innovative fashion app that takes the stress out of dressing up. It serves as a virtual closet, allowing you to effortlessly organize, plan, and curate your outfits. With Pureple, you can say goodbye to fashion dilemmas and embrace a stylish and well-coordinated wardrobe. Whether you're a fashion enthusiast, a busy professional, or simply someone looking for fashion inspiration, Pureple has got you covered.
2. How Does Pureple Outfit Planner Work?
Pureple Outfit Planner utilizes advanced algorithms and intuitive design to make outfit planning a breeze. Here's a step-by-step breakdown of how Pureple works:
Capture Your Clothing: Begin by snapping pictures of your clothes using the app's built-in camera. You can also import images from your gallery. Pureple's smart technology will automatically detect colors, patterns, and clothing types, making the process quick and seamless.
Categorize and Organize: Once you've added your clothing items, you can categorize them by type, color, season, or any other criteria that suit your preferences. This categorization makes it easier to find specific pieces when planning outfits.
Create Outfit Combinations: Now comes the fun part! Pureple's intuitive interface allows you to mix and match your clothing items to create countless outfit combinations. Experiment with different styles, colors, and patterns, and let your creativity shine.
Save and Archive: Found a winning outfit combination? Save it in Pureple's archive for future reference. This way, you'll never forget your favorite looks and can easily recreate them whenever you want.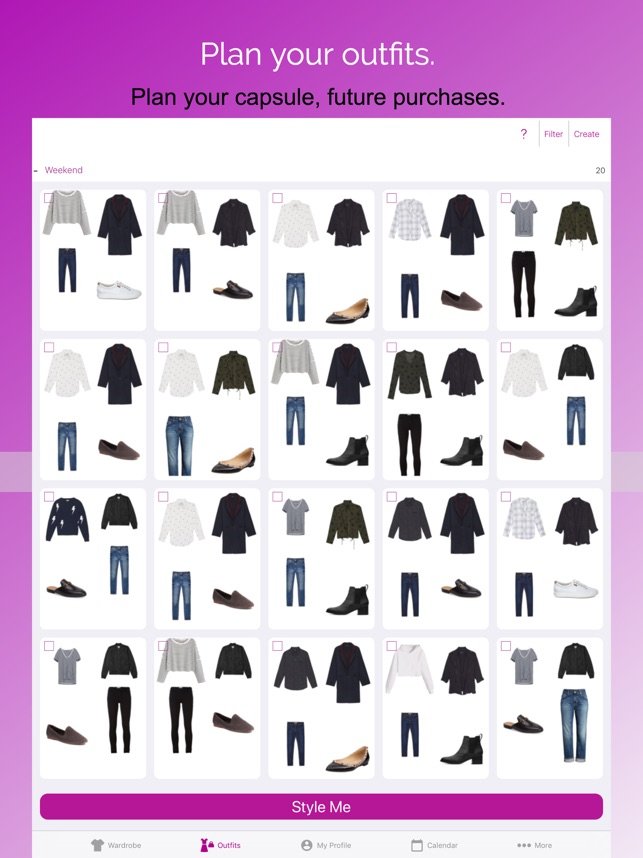 3. The Benefits of Using Pureple Outfit Planner
Pureple Outfit Planner offers a multitude of benefits that will transform the way you approach fashion. Let's explore some of the key advantages:
Effortless Organization: With Pureple, you can bid farewell to a cluttered closet. The app enables you to organize your clothes digitally, making it easy to locate specific items and keep your wardrobe in order.
Save Time and Energy: Say goodbye to the frustration of indecisiveness and endless outfit changes. Pureple streamlines the outfit planning process, allowing you to create stylish looks in minutes, saving you precious time and energy.
Unleash Your Creativity: Pureple provides a virtual canvas for you to experiment with different outfit combinations. Discover new styles, mix and match unexpected pieces, and unlock your inner fashionista.
Reduce Fashion Waste: By maximizing the potential of your existing wardrobe, Pureple promotes sustainability and reduces fashion waste. Make the most of what you already own and minimize unnecessary clothing purchases.
Access Your Closet Anywhere: Whether you're at home, at work, or on the go, Pureple Outfit Planner is always at your fingertips. The app is available on multiple devices, ensuring that your wardrobe is accessible no matter where you are.
4. Creating Your Personalized Wardrobe Collection
Building a personalized wardrobe collection is a crucial step in elevating your fashion game. Pureple Outfit Planner empowers you to curate a collection that reflects your unique style and personality. Here's how you can get started:
Assess Your Current Wardrobe: Begin by taking a close look at your existing clothing items. Identify pieces that you love, those you rarely wear, and those that need updating. This assessment will help you understand your fashion preferences and lay the foundation for building your collection.
Identify Key Essentials: Every wardrobe needs a set of essential items that form the basis of various outfits. Classic pieces like a tailored blazer, a little black dress, or a well-fitted pair of jeans are versatile and timeless. Take note of any missing essentials and prioritize adding them to your collection.
Define Your Style: Fashion is a form of self-expression, so it's essential to define your personal style. Are you drawn to bold and vibrant colors, or do you prefer neutral tones? Are you more inclined towards casual and comfortable outfits, or do you gravitate towards formal attire? Consider your lifestyle, preferences, and the image you want to portray through your clothing.
Embrace Versatility: When selecting new pieces for your wardrobe, aim for versatility. Look for items that can be easily mixed and matched with existing pieces, allowing you to create a wide range of outfits. This approach maximizes the potential of your collection and ensures that you make the most of every item.
5. Organizing Your Closet with Pureple Outfit Planner
An organized closet is the key to stress-free outfit planning. Pureple Outfit Planner offers a range of features to help you keep your digital closet tidy and easily accessible. Let's explore some of the organization features:
Categorize by Type: Sort your clothing items into categories such as tops, bottoms, dresses, outerwear, and accessories. This categorization allows for easy browsing and ensures that you can quickly locate specific items when needed.
Color Coordination: Pureple's color detection technology enables you to categorize your clothing by color. This feature comes in handy when you want to create monochromatic or color-coordinated outfits. Simply select a color category, and Pureple will display all the items that match that color.
Seasonal Segmentation: Keep your wardrobe organized by separating your clothing into different seasons. This segmentation ensures that you're only presented with relevant options when planning outfits for a particular time of the year.
Favorites and Archive: Mark your favorite outfits or combinations as "favorites" to easily access them later. The archive feature allows you to store past outfits that you may want to revisit or recreate in the future.
6. Mix and Match: Unlocking the Power of Pureple
Pureple Outfit Planner empowers you to become a master of mix and match. With the app's intuitive interface and powerful features, the possibilities are endless. Here are some tips to help you unlock the full potential of Pureple:
Experiment with Colors: Use Pureple's color coordination feature to create visually stunning outfits. Try pairing complementary colors or experimenting with different shades of the same color for a cohesive and eye-catching look.
Play with Patterns: Don't be afraid to mix patterns! Pureple allows you to see how different patterns and prints work together. Pair a floral top with striped pants or a polka dot skirt with a plaid blazer for a fun and eclectic outfit.
Layering Magic: Layering adds depth and dimension to an outfit. Use Pureple to explore layering options with your clothing items. Try pairing a sleeveless dress with a cozy cardigan or layer a denim jacket over a printed blouse for a trendy and layered look.
Accessorize to Elevate: Accessories can make or break an outfit. Pureple lets you experiment with different accessories like belts, scarves, statement jewelry, and bags to enhance your overall look. Don't forget to consider the occasion and style when selecting accessories.
7. Exploring Outfit Recommendations
Sometimes we all need a little inspiration, and Pureple Outfit Planner is here to provide just that. The app offers outfit recommendations based on your existing wardrobe items. Here's how you can explore outfit recommendations with Pureple:
Smart Suggestions: Pureple's intelligent algorithm analyzes your clothing collection and suggests outfit combinations based on your preferences and style. Browse through these suggestions for instant outfit ideas tailored to your wardrobe.
Filters and Themes: Pureple allows you to apply filters and themes to outfit recommendations. Whether you're looking for casual outfits, work-appropriate ensembles, or party looks, you can find inspiration specific to your desired occasion.
Save and Customize: If you come across an outfit recommendation that catches your eye, save it to your favorites for future reference. You can also customize these recommendations by swapping out specific items with alternatives from your own collection.
8. Navigating Seasonal Transitions with Pureple
Transitioning your wardrobe from one season to another can be a daunting task. Pureple Outfit Planner simplifies this process and ensures a smooth transition between seasons. Here's how Pureple can assist you during seasonal changes:
Review Your Collection: As a new season approaches, take a moment to review your wardrobe collection. Identify pieces that are suitable for the upcoming season and set them aside for easy access.
Identify Gaps: Assess your collection to determine if there are any gaps for the new season. Do you need additional layering pieces for colder weather, or are you missing lightweight options for warmer days? Make note of the items you may need to add to your collection.
Plan Ahead: Use Pureple to plan your outfits for the upcoming season in advance. Take advantage of the app's features to visualize and experiment with different outfit combinations. This proactive approach ensures that you're ready and prepared as the new season arrives.
9. Utilizing Pureple Outfit Planner on the Go
Pureple Outfit Planner goes beyond just a desktop experience. The app is designed to accompany you on the go, ensuring that your fashion decisions are never limited by location. Here's how you can utilize Pureple on the go:
Mobile Accessibility: Download the Pureple app on your smartphone or tablet and have your entire wardrobe collection at your fingertips. Whether you're traveling, shopping, or simply away from your computer, you can access your digital closet anytime, anywhere.
Capture and Add on the Spot: Found a fabulous piece while shopping? Capture an image of it using Pureple's camera feature and instantly add it to your collection. This seamless integration allows you to keep your wardrobe up to date even when you're on the move.
Real-Time Inspiration: Get inspired on the go by browsing through outfit recommendations, trying out new combinations, and exploring different styles. Pureple ensures that you have a world of fashion possibilities in your pocket.
10. Pureple Premium: Unleashing Advanced Features
While the standard version of Pureple Outfit Planner offers remarkable features, upgrading to Pureple Premium unlocks a whole new level of functionality. Let's explore some of the advanced features available with Pureple Premium:
Advanced Filters: Pureple Premium offers additional filters and themes for outfit recommendations. This allows for even more customization and specificity when seeking inspiration.
Statistics and Analytics: Gain valuable insights into your fashion choices with Pureple Premium. Track which clothing items you wear the most, discover your go-to color combinations, and analyze your outfit preferences.
Advanced Planning: With Pureple Premium, you can plan your outfits further in advance by utilizing the app's calendar feature. Organize your looks for specific events, trips, or special occasions to ensure that you're always dressed to impress.
11. Pureple Outfit Planner and Sustainable Fashion
Sustainability is at the core of the fashion industry's future, and Pureple Outfit Planner is a tool that aligns perfectly with this ethos. Here's how Pureple promotes sustainable fashion:
Maximizing Existing Wardrobe: By utilizing Pureple's outfit planning capabilities, you can make the most of your current clothing collection. This reduces the need for constant new purchases and helps minimize waste.
Smart Shopping: When you do decide to add new pieces to your wardrobe, Pureple can guide you in making smart and conscious choices. Plan your purchases by considering how new items will complement your existing collection and fulfill any gaps.
Discovering Hidden Gems: Pureple's recommendation feature can help you rediscover forgotten or rarely worn pieces in your wardrobe. Instead of constantly seeking new items, you can find new ways to style and breathe new life into what you already own.
12. Staying Fashionable and Sustainable with Pureple
Pureple Outfit Planner bridges the gap between fashion and sustainability, ensuring that you can be both fashionable and mindful of the environment. Here are some tips for staying fashionable and sustainable with Pureple:
Quality over Quantity: Invest in high-quality clothing pieces that are durable and timeless. Pureple can assist you in curating a collection of well-made items that will stand the test of time, reducing the need for frequent replacements.
Versatile Pieces: Opt for versatile pieces that can be styled in multiple ways. Pureple's mix and match feature allows you to explore different outfit combinations, enabling you to maximize the potential of each item in your wardrobe.
Secondhand and Vintage: Consider adding secondhand or vintage pieces to your collection. Pureple can help you incorporate these unique finds into your outfits, creating a truly individual and sustainable style.
Clothing Swaps and Donations: Participate in clothing swaps with friends or donate unwanted items to charity. Pureple's organization features make it easy to identify items that no longer serve you, allowing you to pass them on to someone who will appreciate them.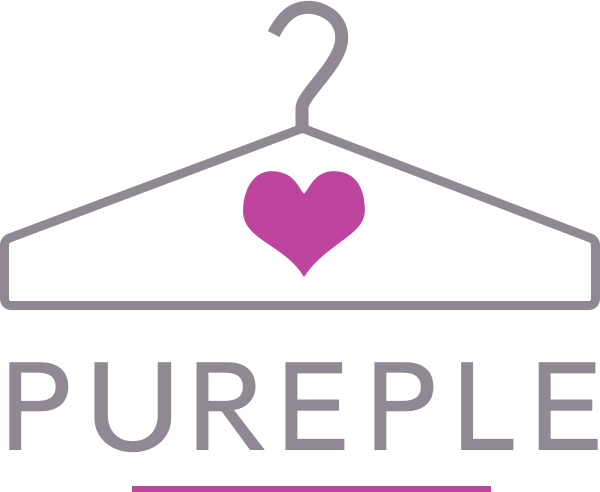 FAQs
1. Can I use Pureple Outfit Planner on multiple devices? Yes, Pureple Outfit Planner is available on multiple devices, including smartphones, tablets, and computers. Simply download the app or access the website to sync your digital closet across your devices.
2. Can I add custom categories to my wardrobe in Pureple? Absolutely! Pureple allows you to create custom categories and subcategories to suit your specific needs. Whether you want to organize your wardrobe by occasion, style, or any other criteria, Pureple gives you the flexibility to do so.
3. How accurate are the color coordination and matching features in Pureple? Pureple uses advanced color detection technology to categorize your clothing items. While the app strives for accuracy, lighting conditions and image quality may affect the results. It's always a good idea to double-check the categorization and make adjustments if necessary.
4. Can Pureple recommend outfits for specific events or occasions? Yes, Pureple offers filters and themes that allow you to narrow down outfit recommendations based on specific events or occasions. Whether you're attending a wedding, going on a vacation, or preparing for a business meeting, Pureple has you covered with tailored suggestions.
5. How does Pureple Premium differ from the standard version? Pureple Premium offers advanced features such as additional filters and themes, statistics and analytics about your wardrobe and outfit choices, and the ability to plan outfits further in advance using the calendar feature. Upgrading to Pureple Premium enhances your outfit planning experience and provides greater customization options.
6. Is my data safe and secure with Pureple Outfit Planner? Pureple takes data security and privacy seriously. Your information is stored securely and encrypted to ensure its protection. Pureple does not sell or share personal data with third parties, so you can enjoy the app with peace of mind.
Conclusion
Pureple Outfit Planner is a game-changer in the world of fashion. With its intuitive interface, extensive features, and focus on sustainability, it revolutionizes the way you plan and approach your outfits. From effortless organization to endless outfit possibilities, Pureple empowers you to unleash your creativity and make the most of your wardrobe.
Say goodbye to fashion dilemmas and hello to a stress-free, stylish life with Pureple Outfit Planner. Download the app, start organizing your closet, and embark on a fashion journey that will transform the way you dress. Experience the convenience, versatility, and sustainability of Pureple today!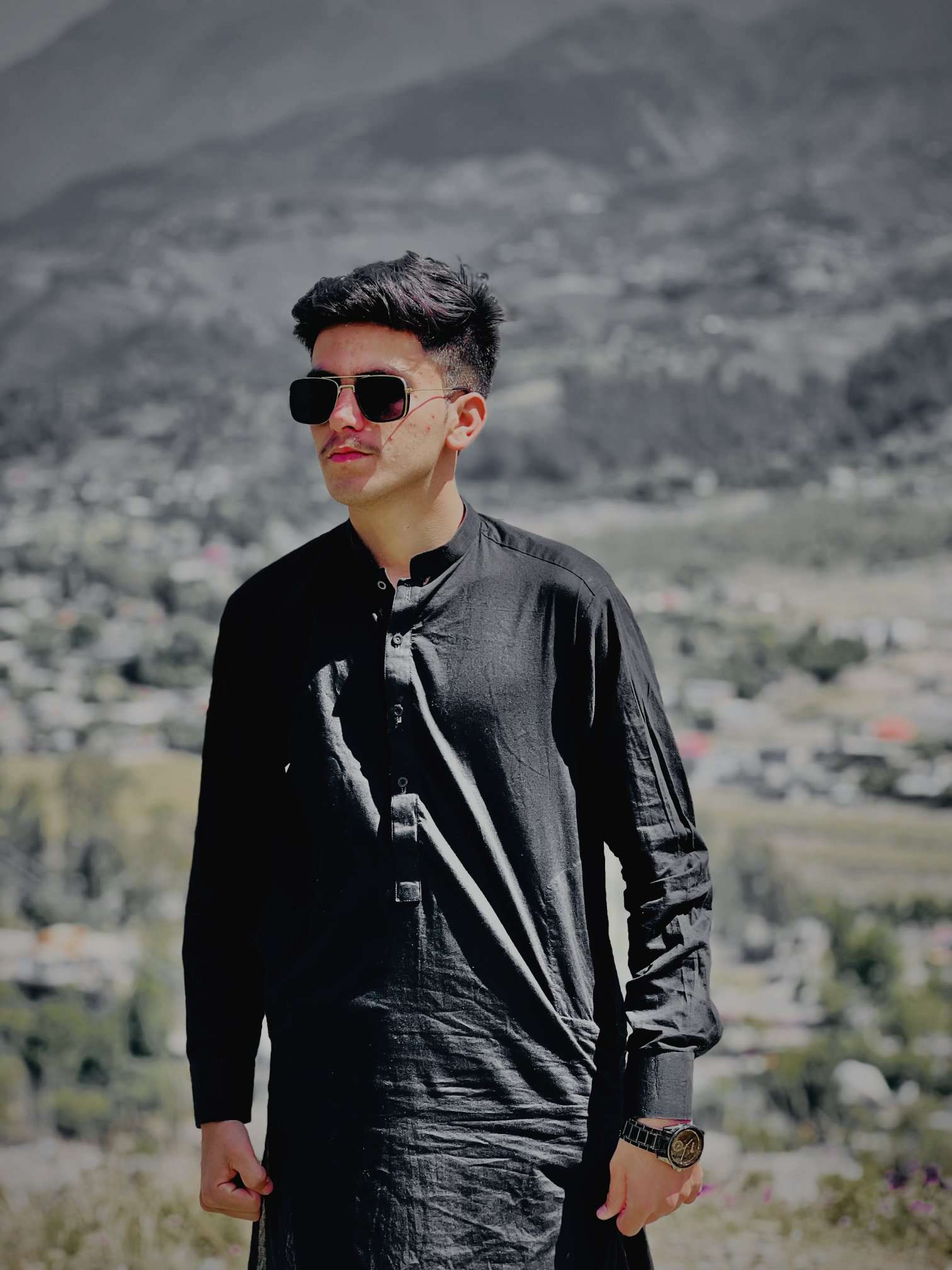 Rocklord is an experienced blogger with a wealth of knowledge and expertise in creating great content. With 5 years of experience in the industry, Rock lord has established himself as a thought leader and influencer in the blogging community. His insightful and engaging content has captivated readers and left them craving for more.
Contact : Rockseo333@gmail.com